Sri Chinmoy's New Year's Message for 2000
   The Absolute Lord Supreme
Tells the confusion-mind of the world:
   "Take My Sadness-Heart and Madness-Eye
As the last and urgent Warning.
   Come back Home immediately!"

   The Beloved Lord Supreme
Tells the aspiration-heart of the world:
   "In you is
My World-Transformation-Hope-Dream,
   With you is
My Self-Transcendence-Vision-Manifestation-Promise
   And for you is
My Smile-Beauty-Fragrance-Presence."

   The Year Two Thousand
Is a decision-examination for humanity:
         Either
We bind and blind the old world, and retire
         Or
We embrace the new world of the forward march.
   The Smile of the Beyond
   Is beckoning us
   To come and play hide-and-seek.

— Sri Chinmoy
Sri Chinmoy offers his message for the New Year at his Peace Concert on 30 November 1999, at Martin Luther King, Jr. High School in New York.
Notes:
• In 1999, Sri Chinmoy's book, The New Millennium, was published by Agni Press in New York. It contains poetry and songs dedicated to the New Millennium.
• On 27 December 1999, in Curitiba, Brazil, Sri Chinmoy gives some illumining answers to questions about the New Millennium. He discussed its meaning ... God's Hour ... newness ... and the words of the New Year's Message.
• On New Year's Day, 1 January 2000, Sri Chinmoy composes a Bengali song about the New Year. 
• In New York, on 13 July 2000, Sri Chinmoy is interviewed by the Italian magazine Armonia during which he was asked if he had a special wish for the New Millennium.
Sri Chinmoy: "My only wish in this New Millennium is to see everybody happy — happy while looking at the world, happy while helping the world, happy in becoming a true citizen of the world for the tremendous evolution and progress of mankind."
He Param Pita Nutan Barashe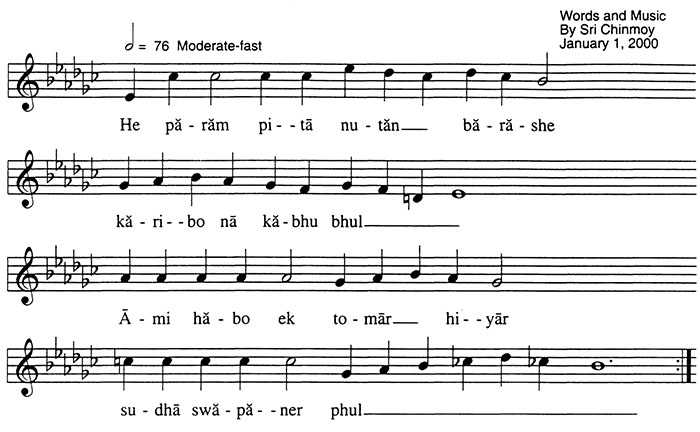 Bengali lyrics
He param pita nutan barashe karibo na kabhu bhul
Ami habo ek tomar hiyar sudha swapaner phul
English translation
O my Absolute Father Supreme,

In the New Year I shall make no mistake.

I shall be a flower of Your Heart's Nectar-Dream.
---
Published in Giti Mala, song no. 192