Sri Chinmoy's New Year's Message for 2006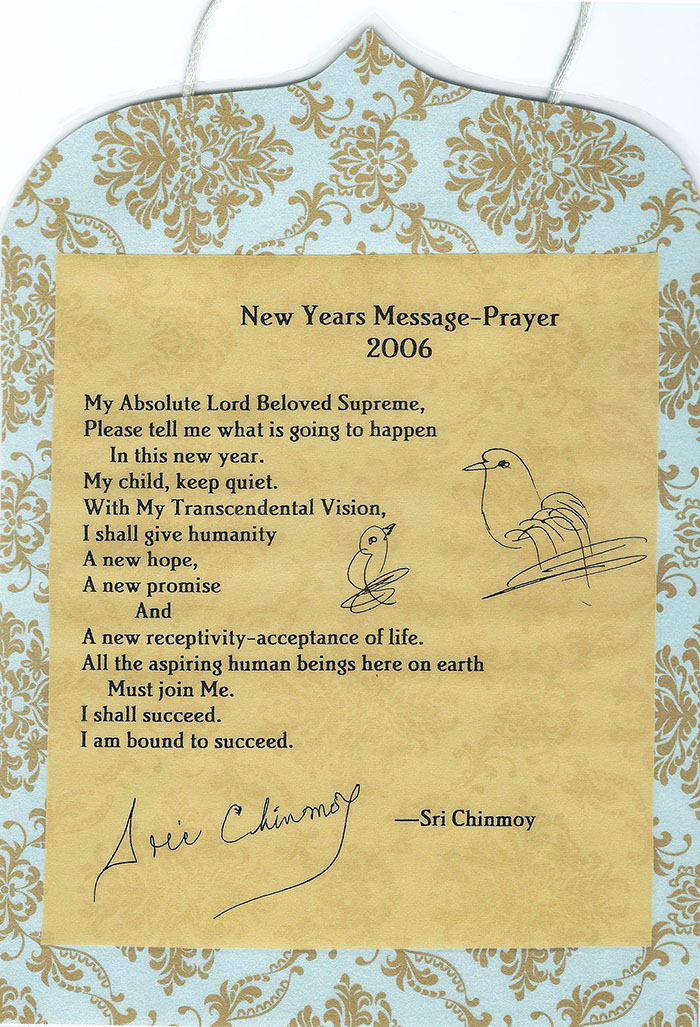 My Absolute Lord Beloved Supreme,
Please tell me what is going to happen
   In this New Year.
"My child, keep quiet.
With My Transcendental Vision,
I shall give humanity
A new hope,
A new promise
   And
A new receptivity-acceptance of life.
All the aspiring human beings here on earth
   Must join Me.
I shall succeed.
I am bound to succeed."
— Sri Chinmoy
Notes:
On December 6, 2005, Sri Chinmoy wrote the following Bengali song about the New Year. The score is currently unavailable, however the lyrics are displayed below.
Bipul Harashe Nabin Barashe Jagiche Moder
Lyrics:
Bipul harashe nabin barashe jagiche moder pran

Banglar pran ek hok aji subishal sumahan

Khandita nahe banga hriday rayeche bishwa priti

Gupta danab brukuti moder parane kagai bhranta bhiti

Tamasi rajani haye jabe bhor udibe tapan purbachale

Sonar bangla amar bangla jagibe amar amita bale
Naba barasher hriday gabhire rayeche gopane mukti asha

Chira adrita arjya rishir phire pabo mora mauna bhasha
---
Published in Sundaratama Dekha Dilo Aji, part 1
New Year's Day Prayer
by Sri Chinmoy
in Kuantan, Malaysia
1st January 2006
My Lord,
On New Year's Day
You are watching
The blooming New Year
With such Compassion, Concern,
Sweetness and Fondness.
May each and every human being
Place at Your Feet
A garland of gratitude,
Gratitude and gratitude,
My Lord, my Lord,
My Lord Supreme!
---
Published in My Early Morning Heart-Climbing Prayers