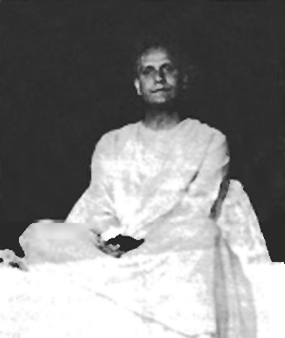 "In 1974 the seekers of the transcendental Truth shall dive deep within and more within and become the perfection-smile of aspiration-power, realisation-love, revelation-oneness and manifestation-light." 
— Sri Chinmoy's New Year Message
 
Sri Chinmoy offered his annual New Year's Meditation Friday evening, December 21 at Hunter College, New York City. before than 1500 seekers attended this year's meditation, receiving the Master's inspiration while offering their own aspiration for the dawning year, 1974.
Sri Chinmoy offers the New Year's Meditation annually to inspire all seekers to fulfil the possibilities that each new year embodies. The New Year's Meditation has been held annually since 1970.
The evening was a mixture of music and meditation. "Music is next to spirituality," Sri Chinmoy teaches.… Also performing were the Mahavishnu Choir and the Bengali Singers, an all-girl choir that sings Bengali songs written and set to music by the Master. "The whole evening flowed like music," one young girl from Toronto said afterwards.
In addition to the seekers of various paths from around the New York area, Sri Chinmoy's own disciples came from across the United States and Canada. For them it is one of the highlights of the year.
Sri Chinmoy says that each new year offers a unique and significant opportunity to make inner spiritual progress and to manifest the divine life in the outer world through aspiration and dedicated service.
---
Note: Anahata Nada was the longest-running newsletter of the Sri Chinmoy Centre. It was first published on January 1, 1974, and chronicled Sri Chinmoy's life and activities for over three decades until 2007.