The following eleven poems are photocopied from Sri Chinmoy's Notebook of 10 and 11 January 1948, with the addition of one poem from 15 August 1948. These poems were all written when he was sixteen years old. Sri Chinmoy's original Bengali handwriting is hereby reproduced, as well as his own English translations and, in some instances, we have included in the editorial notes his mature, revised versions of the same poems. Where the poet set music to these poems in later years, we have endeavoured to provide the link. All Bengali words, transliterations and translations are by the Poet, unless otherwise indicated.
– Vidagdha
Table of Contents
1.  Goes There My Beloved
Goes there my beloved, my sweet Lord!
The anklets ringing on His Feet!
          I hear the music of His Flute
          Vibrating through the horizons:
                    If ever He cast back a glance!
                    My cowherd boy only goes on!
Let my eyes follow the foot-track
The track my beloved treads, –
          In the twilight hour of the day
          With a sweet and serene smile –
                    Leading the herds of varied light
                    My cowherd boy goes.
11-1-48
Afternoon
Notes:
1. Sri Chinmoy revised this poem and set music to the Bengali words on 17 December 1972.
2. Revised Bengali words and translation:
O bujhi Kanu jai
Nupur diye pai
Shuni charan dhwani
Dure uthichhe rani
Jadi phire takai
Rakhal shudhu jai
O bujhi Kanu jai
Nayan jena dhai
Je pathe Kanu rai
Godhuli bela sheshe
Madhur hasi hese
Godhan niye jai
   There goes my Beloved, my sweet Lord,
   The anklets ringing on His Feet.
   I hear the music of His Flute
   Vibrating through the horizons.
   If ever my cowherd boy
   Should cast a glance behind Him,
   Still He only goes forward.
   Let my eyes follow the track
   My Beloved treads.
   In the twilight hour of the day,
   With a sweet and serene smile,
   Leading the herds of varied light,
   My cowherd boy goes.
3. Sri Chinmoy recorded this song on October 15, 1999. It was released on the CD "One Thousand Lotus Petals" Part 2 [(c) 2000].
AudioPlayer requires Adobe Flash Player
or maybe incompatible with your browser.
Click to play the audio file.
Listen to Sri Chinmoy singing.
2. If Ever I Go
If ever I go to read my poems to anybody
In return I get only laughter – my poems are worthless
Yet I write and write; caring for none.
In simple and easy tune I go on always singing:
Poems are for one's own self, and never for others:
Through poems the poet returns unawaringly to his heart.
11-1-48
At night
Notes:
1. Sri Chinmoy set this poem to music on 26 November 2005, more than 53 years later.
2. Transliteration:
Kabita amar dekhabar tare taro kache jadi jai
Pratidane shudhu pai apaman kono je mulya nai
Tabu likhe jai apanar mane karo prane nahi chahi
Sahaj surete bahu giti mor niyata chalechi gahi
3. Toiling Through Aeons
Toiling through aeons suffering how many wounds
           – This river of my life –
By tearing the stone-like heart of a rude mountain
           – Only to hear Thy message –
           Oh my Ocean, dost Thou not know –
              With what an aspiration kissing Thy Feet
               I have made flow to melt in Thee –
                                            All what I am –
                                            Yet Thou art silent? 
January -10-48
Night
4. The Supreme Reward
Like a beggar to roam from door to door
                For a little satisfaction –
Do I weave the garland of poems
                By awakening late at night.
Thou, my beloved, hearest songs of my soul and, so –
I care not my tiredness
       And sing and sing without cessation. 
If there be none to listen to my song –
                No, not even a single friend;
        I shall not pine, not even grudge a little
The song of Thy victory –
                Through eternity, my Lord,
        In divine harmony, sweet and blissful cadence
                 May the soul of Thy Poet sing!
I am only a flute; if Thou do not pipe
                 I never raise a melody.
Wilt Thou write this fate on my forehead?
        I shall sing the secret lores of heart
        And this flute will get – in Thy Mouth,
                  My Lord, its supreme reward!
10-1-48
At night
5. Pilgrims
Travellers we are, – liberation is not our aim:
          To conquer the whole universe is our endeavour.
                   By love we shall conquer the world
                   And then return to our Motherland –
When all will sing our glory – all around –
           We shall celebrate the victory of our Lord.
If there be anything more lowly than grass – it is our head
           Living pictures of humility we are the young heroes:
                   Being strong with the strength of God –
                   We shall overcome all dangers.
None inferior, all are equal, knowing this truth in heart
           The poor and the rich, the foolish and the wise –
                              We shall greet all.
11-1-48
Afternoon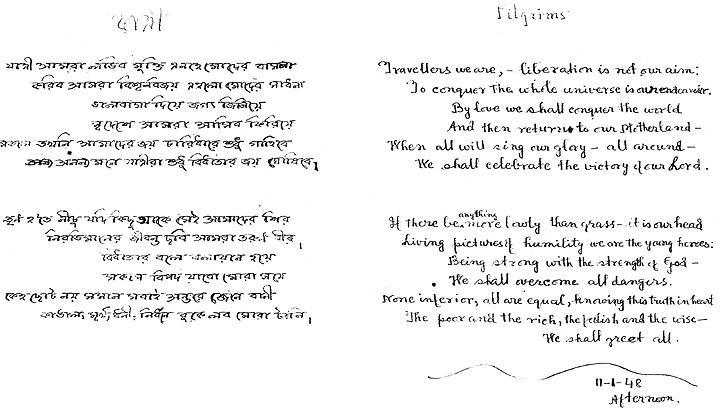 6. The Awakening of Dawn
Fulfilling the vision of the sages
         India, our Mother India
With smiling face – opens today
         The door of Her Eastern Light:
Our Mother's body is not amputated,
         She shines with divine beauty –
Though even now her glow and grace
          Is veiled by the clouds:
It is the festival of awakening of our Mother;
          It is the dawn of a golden new era;
Our Mother is bringing for us – her casket
          Filled with her immortal gifts:
We shall bestow to the comity of nations, to the world at large
          The sweet nectar of the supermind.
We shall satisfy by the favour of our Mother
          The hunger of all the souls:
The vision of Jesus Christ – kingdom of Heaven –
          In order to materialise –
Narayan is revealed today in man
          On this earth of dust.
Victory of the Creator, victory of Bharatvarsha,
          Victory of the dwellers of the universe
Is indicated today, and of the golden age
          Today forms the dawn.
Composed on the occasion of Independence Day
15-8-48
Afternoon
Notes:
1. Sri Chinmoy set tune to this song on 13 July 1997, in preparation for the 50th anniversary of India's Independence.
2. Transliteration:
Rishir swapna sarthak kare
Bharat Janani mor
Sahas anane khuliteche dekho
Purbachaler dor
Khandita nahe mayer swarup
Dibya labani makha
Jadiyo rayeche ekhano se shobha
Megher arale dhaka
Mayer bodhan utpab ei
Nabin juger usha
Janani moder aniche bhariya
Amrita manjusha
Bilabo amara bishwaw sabhai
Ati manaser sudha
Mayer prasade mithabo amara
Sarba jiber khudha
Jishur swapna swarga rajya
Bastabe rup dite
Narayan aj murta halen
Dhulimoy dharanite
Bidhatar joy Bharater joy
Bishwabasir joy
Suchita hateche satya juger
Ajike abhyudoy
7. A Lotus in Pride
A lotus in pride asks a jesmine flower –
            Is there anyone to defeat me in beauty?
The jesmine in reply – says "O! Methinks –
            He who resides in heart is more beautiful than you."
"I do not know – tell me – who resides in heart?
            Whom I cannot defeat, alas – in beauty –"
"I do not know His name, but I see Him always
            Reside in the heart of all to decorate them." 
10-1-48
Night
Notes:
1. 'Jesmine' – a variation of 'jasmine' or 'yasmin' (Persian). 
2. The following transliteration of this poem was undertaken by Mahatapa Palit:
Kamal dakiya heshe bole juthikare
Soundorjyo harate keho pareki amare?
Uttore juthika bole mor mone hoy
Sundor se tomar cheye antare je roy
"Nahi jani bolo more antare ke thake
Soundorje harate ami parina jahake"
"Nam tar nahi jani, kintu heri tare
Sobar antare theke – sajate sobare."
8. Blow Thy Flute of Light
Blow Thy Flute of Light, O Poet,
                     At this dawn of autumn.
Unite my heart, my Lord,
                     With that of Thee;
Make me Thy dear friend,
                      Be Thou my Shaper,
On the chariot of fancy to the distant heaven
                      Let us fly; I have no fear –
The Mother of the universe will stay with us
                      My beloved Lord, let us fly;
I have with me the flute of my life,
                       Blow Thy Flute of Light –
                               At this dawn of autumn.
11-1-48
afternoon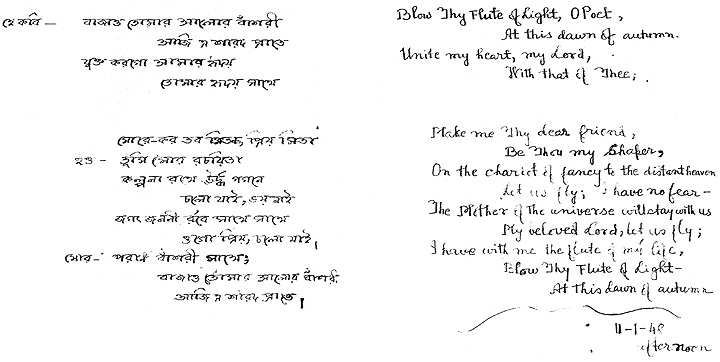 9. With Tears of Sorrow
With tears of sorrow and agony – my soul in woe
            Came here – to hear Thy message –
Touching – silently – Thou toldest through his ears:
             Only to look at Thee;
He has not been able to follow Thy Command,
                    Divine and majestic;
             Taking it for his playful whim
Why hast Thou not drawn him to Thy Lap?
Ever restless, trembling in fear – my mind,
                    Life and body
              If I cannot offer Thee –
If ever I forget the depth of my Mother's Love –
              Yet silence on Thy Part –
How difficult it is to bear – knowest Thou not?
              My tears always in anxious awaiting –
                     Do not drop, Mother, I admit
Why hast Thou not drawn me yet, to Thy Lap?
11-1-48
night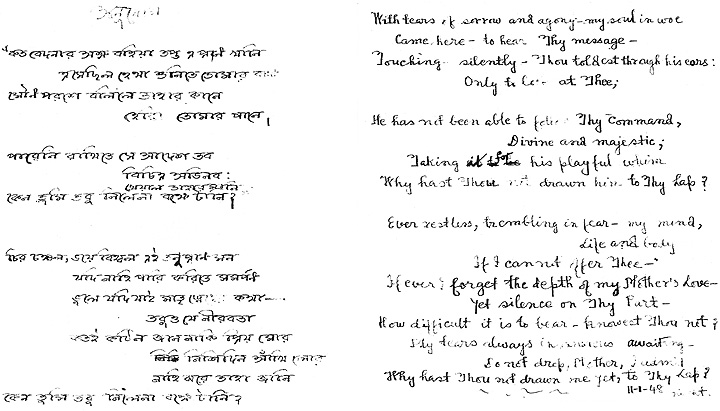 10. The World and The Being
A zigzag course and, more over, a thorny one
           I get obstacle at every step from a wild fence;
No light, no air, only dark and gloomy shadows –
           They try to frighten me with hideous shapes.
I travel on that road alone and in silence
            I have forgotten whence I have come
I travel and travel and no cessation of my travelling
            Never calculating if I have gained or lost.
Am I to walk in vain in this desert-land
            With dust and sand, thorn and smoke all around?
If ever Thou hold my hand – I can cross it, Dear,
            Otherwise I shall suffer at every moment.
If I do not get the Infinite in this Finite Shape
            Why do I roam again and again in the woods of thorns?
10-1-48
night
Notes:
1.  Sri Chinmoy revised this poem and set it to music on 27 August 1974 – his 43rd birthday.
2.  The revised Bengali words and translation read as follows:
Shudhu chali e chalar
Nai je birati

Hisab karini kabhu
Er labh khati
Britha kigo ghure mari
Ei marubhume
Dhula bali kantaka
Ar kalo dhume I just walk on;
My walking never ends.
I have never calculated
The loss and gain of my journey.
Alas, am I to go on
Eternally in vain
In this earth-desert
Full of dust and sand, thorns and smoke?
11. In Expectation
I feel the Skirt of Thy Raiment
                  Pervading the universe!
I live in its shadow, Mother, and
                  I sing Thy Glory!
The birds return to their nest
                  At dusk of twilight;
I think of Thee in this hour,
                  Seated on the sea-shore.
In my loneliness awake is the
                  Pupil of my eye:
Self-enraptured I have dived in
                  The Ocean of Beauty:
The star of evening calls me smiling,
                  "Wilt Thou play?"
I wished, but alas, there is no time:
My Mother is alone expecting me:
Who will take me there? where's
                   My Boatman?
Note:
1. The Bengali words for this poem are missing from the photocopy of the Notebook. The English words do not appear to correspond with any of Sri Chinmoy's currently published songs or their translations.