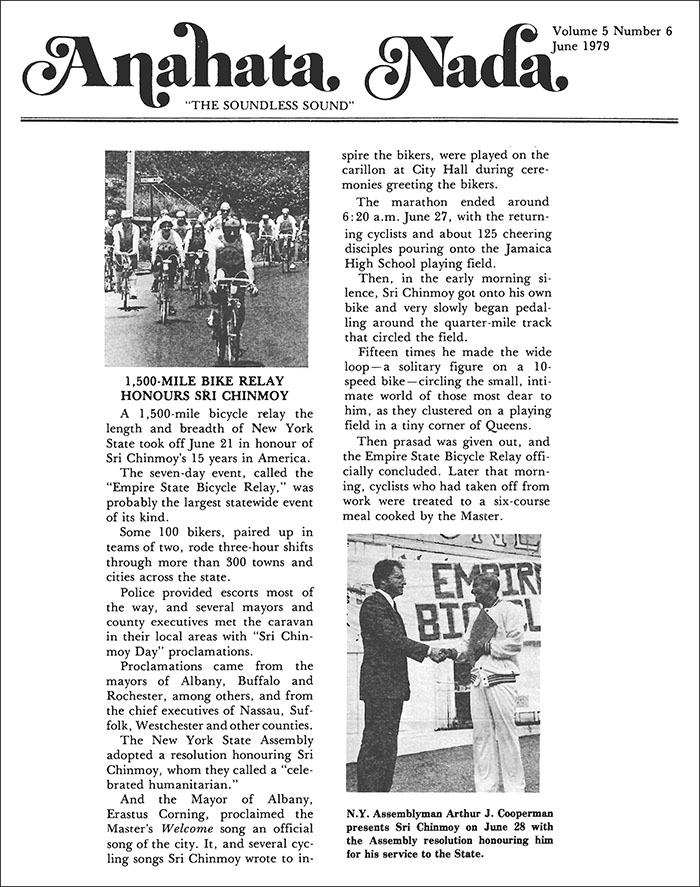 1,500-MILE BIKE RELAY HONOURS SRI CHINMOY
A 1,500-mile bicycle relay the length and breadth of New York State took off June 21 in honour of Sri Chinmoy's 15 years in America.

The seven-day event, called the "Empire State Bicycle Relay," was probably the largest statewide event of its kind.

Some 100 bikers, paired up in teams of two, rode three-hour shifts through more than 300 towns and cities across the state.

Police provided escorts most of the way, and several mayors and county executives met the caravan in their local areas with "Sri Chinmoy Day" proclamations.

Proclamations came from the mayors of Albany, Buffalo and Rochester, among others, and from the chief executives of Nassau, Suffolk, Westchester and other counties.

The New York State Assembly adopted a resolution honouring Sri Chinmoy, whom they called a "celebrated humanitarian."

And the Mayor of Albany, Erastus Corning, proclaimed the Master's Welcome song an official song of the city. It, and several cycling songs Sri Chinmoy wrote to inspire the bikers, were played on the carillon at City Hall during ceremonies greeting the bikers.

The marathon ended around 6:20 a.m. June 27, with the returning cyclists and about 125 cheering disciples pouring onto the Jamaica High School playing field.

Then, in the early morning silence, Sri Chinmoy got onto his own bike and very slowly began pedalling around the quarter-mile track that circled the field.

Fifteen times he made the wide loop — a solitary figure on a 10-speed bike — circling the small, intimate world of those most dear to him, as they clustered on a playing field in a tiny corner of Queens.

Then prasad was given out, and the Empire State Bicycle Relay officially concluded. Later that morning, cyclists who had taken off from work were treated to a six-course meal cooked by the Master.
Caption:
N.Y. Assemblyman Arthur J. Cooperman presents Sri Chinmoy on June 28 with the Assembly resolution honouring him for his service to the State.
---
Published in Anahata Nada,Volume 5, No 6, June 1979